Product Description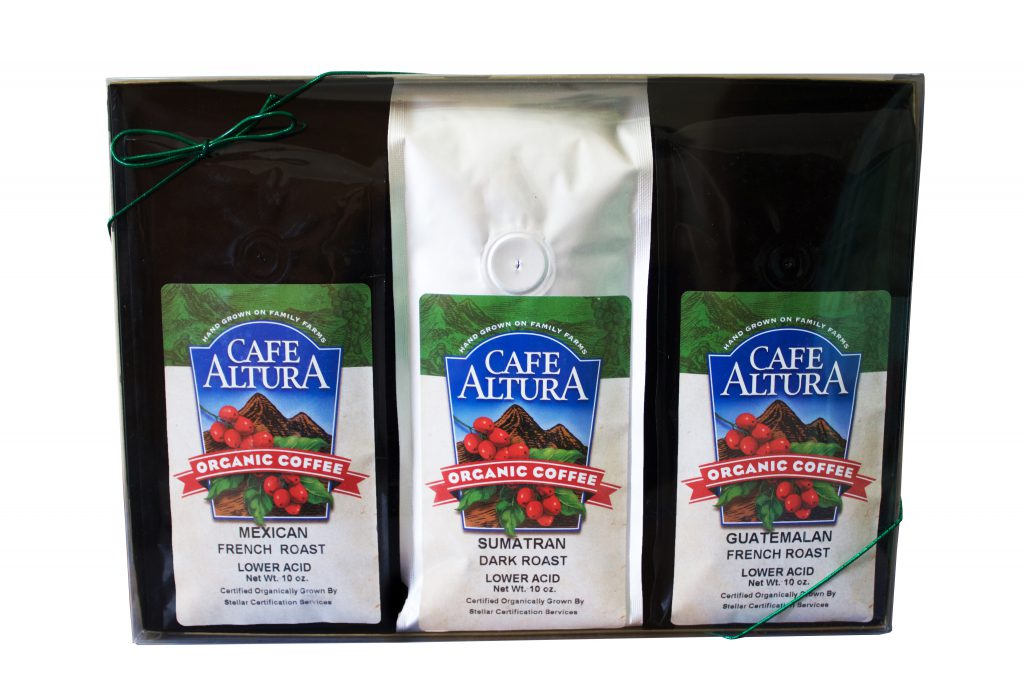 We are very pleased to offer a low acid coffee sampler pack for our customers that cannot tolerate high acid coffees. If you experience frequent heartburn or acid reflux, our low acid coffees may allow you to enjoy a great cup of organic coffee without the irritation.
This gift box includes three 10oz bags of our delicious organic coffee:
Mexican French Roast (our standard French)
Fair Trade Sumatran Dark Roast
Guatemalan French Roast
Want to know more about Acidity in Coffee?
We have two articles for you to learn more:
it is a good thing!
Acidity is a bright, clean element that adds to a coffee's flavor profile. Many of the world's highest-rated coffees are held in high regard in part due to their pleasant acidity. A coffee truly free of any acid would be dull and lifeless. Acidity in coffee also indicates the presence of organic acids, which are loaded with anti-oxidant properties.
Average rating:
6 reviews
Dec 7, 2016
Thanks
Thanks for the articles with the info. Just ordered this product. I am very excited to try!
Sep 30, 2016
What a selection
Really enjoyed that this pack included reasonably sized samples so I was able to test each roast. Couldn't pick a favorite. All were good
Jul 18, 2016
Guatemalan French is by far my favorite in the pack. Enjoy that there is a fair trade sample too
Jun 1, 2016
Great Roast Selection
Apr 13, 2016
French! French!
I love that all the roasts in this Flight are French Roasted. My FAVORITE type of Cafe Altura Coffee