According to some estimates, US workers spend an average of around $1,000 per year on coffee. If you're paying for your employees' coffee, it makes sense to do so in a cost-efficient way for your business.
You may be concerned about how to do this, because not all legitimate business expenses fall into a neat category. And when something that you use for business also yields a personal benefit, things can get murky.

Coffee and Taxes – Spoiler Alert
Generally speaking, you can make coffee tax-deductible if you're spending so little on it that it's 'administratively impracticable' to account for it. Yes, it's kind of a gray area, and it's one you should navigate carefully.
Also, if you purchase a coffee maker and supplies, and they are only used at work, then this should be tax deductible.
It's helpful to look at some other areas of providing for employees to see how the tax regulations work in a little more detail.
Is Music Tax-deductible?
Yes. If you want your staff to listen to radio or a playlist to keep people motivated, you can purchase a stereo and music and claim these as a tax-deductible business expense. The key thing here is that the music player remains in the office for the use of staff.
Are Meals Out Tax Deductible?
Yes and no. The primary purpose for these meals must be business. As long as you're with someone else, such as at least one client or customer, you're considered to be in business mode.
If you drive to meet a client and stop for a sandwich on the way, that's not deductible as a business expense. If you take your client out for pizza on arrival, however, you can deduct 50% of the bill, because then it can be classed as a business entertainment expense.
The same goes for employees. Thinking about this will help us answer the coffee question.
If you buy yourself a coffee and a donut during your lunch break, you cannot claim it as a deductible expense, even though it's during work hours. If you happen to take your employee with you, however, and you buy her lunch, you can claim 50% of the bill.
So, how is coffee for the office tax-deductible?
Some drinks and snacks for staff can be deductible. This, however, is because the IRS normally considers small food or drink items as a fringe benefit (or should we say fridge benefit?).
These are de minimis. In other words, the value is minimal so it needn't be added to wages.
A free lunch for your employees every day, on the other hand, would probably be taxable to the employee. You may be able to stretch to beverages and office-kitchen supplies, as long as you don't get too generous.
This is something of a gray area. To shine some more light on it, you may want to get even deeper by checking out this link over your next coffee: IRS publication (see page 15).
Keep your receipts and keep track of any meetings, in or out of the office, where you buy and consume coffee with colleagues and/or employees. They'll be useful, or perhaps even invaluable, if you are audited, especially if you have high entertainment expenses.
You certainly won't be alone if you're claiming coffee as a tax deductible expense. Just watch out for the rule that you cannot claim this if you're only buying coffee for yourself. Never mind that you are drinking the coffee to keep you going at work, during work hours, while on Skype with a client!
On the whole, under normal circumstances, you can claim things like tea bags or coffee as tax deductible. Small businesses can generally deduct the costs of refreshments and similar fringe benefits for their employees.
To qualify, however, you must be able to tick these boxes:
the expense is small
coffee is provided by the employer to workers
the coffee is provided to promote health, contentment, goodwill, or efficiency of workers
It's also worth noting, that – as a small business – it may be possible to deduct 100% of the costs of:
Providing an office coffee bar – if coffee, other beverages, and snacks for employees are provided for staff to consume at work, they are generally 100% deductible.
Refreshments for employees at employee functions – These refreshments are fully deductible if they are offered at work-related meetings or parties, for the benefit of employees.
Refreshments for the public – provide refreshments such as coffee to customers in your lobby and you have another thing that is fully deductible.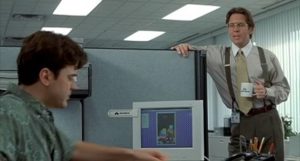 Keep a record of your expenses, as they may sometimes need to be itemized as miscellaneous expenses.
Rules and regulations are constantly evolving, and the small print can be tricky. Hiring a tax attorney can help you with wordings, possible misunderstandings, and will prevent you getting into hot water while you provide hot beverages for the office.
(office cubicle coffee image courtesy Quinn Dombrowski / CC2.0)