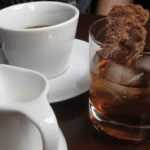 Looking to combine two favorite flavors in a new and unusual way? Katie Shepherd shares her delicious Coffee Bacon recipe. We're thinking that needs to go with some Chicken & Waffles or maybe some homemade ice cream?
This recipe uses ground coffee. You can order coffee from us ground-on-demand or you can grind it yourself at home. We recommend a medium ground type for this recipe.
Coffee Bacon
Yield: 8-12 slices
Ingredients
8-12 slices uncooked bacon
1/4 cup freshly ground coffee
1/4 teaspoon chili powder
4 tablespoons packed brown sugar, divided
2 tablespoons molasses
1 tablespoon water
Freshly cracked black pepper
Directions
Place bacon on top of a piece of plastic wrap or brown butcher paper.
In a small bowl, combine the coffee, chili powder, 2 tablespoons brown sugar, molasses, and water. Spread the mixture over the exposed, fatty part of the bacon slices, pressing in with the back of a spoon. Wrap in the plastic wrap or butcher paper and refrigerate overnight.
When ready to bake, preheat the oven to 375 degrees F. Line a baking sheet with parchment paper. Wipe off most of the coffee grounds with a paper towel, but not all. The majority of the coffee will be on the top of the bacon slices. Lay the slices in a single layer on the parchment paper and sprinkle with the remaining 2 tablespoons of brown sugar and freshly cracked pepper.
Bake until browned and crisp, about 14-17 minutes, or until bacon has reached your desired crispiness. Remove from the oven and allow to cool for five minutes before serving.
(photo credit: Oxalis37)