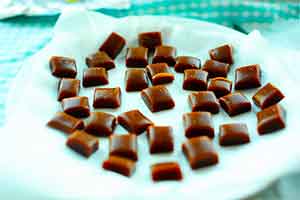 Try this indulgent coffee caramels recipe from Katie Shepherd this weekend using Cafe Altura Freeze Dried Instant Coffee. Order it today and we'll ship it right out to you!
Cafe Altura Freeze Dried Instant Coffee is an exclusively sourced blend of organically grown 100% Arabica Coffees selected from three continents. Then we freeze dry it by an exclusive Certified Organic process to maintain the taste and aroma of real coffee. All coffee is grown sustainably by small farm indigenous growers who form the basis for Fair Trade exchange.
We recommending sourcing organic ingredients for this recipe, to complement our Organic Freeze Dried Instant Coffee

Cafe Altura's Coffee Caramels
makes about four dozen caramels
Ingredients
1 cup granulated sugar
1/2 cup dark brown sugar
1/4 cup light corn syrup
1/4 cup honey
1 1/2 cups half and half (not fat-free)
2 tbsp Cafe Altura instant coffee
1/4 cup (2 oz) butter, cut into 4 pieces
1 tsp vanilla extract
Preparation
Prepare an 8×8 pan by lining it with aluminum foil and spraying the foil heavily with nonstick cooking spray.
Place the sugar, brown sugar, corn syrup, honey, half and half, instant coffee, and butter in a medium saucepan over medium-high heat. Stir until the butter is melted and the sugars dissolve. Insert a candy thermometer.
Continue to cook, stirring frequently, until the thermometer reaches 250.
Once at 250, remove the pan from the heat and stir in the vanilla. Pour the caramel into the prepared pan. Allow it to set at room temperature for 3 hours, or until cool and firm.
Remove the caramel from the pan by using the foil as handles. Flip it upside down and peel the foil off the back. Spray a large sharp knife with nonstick spray, and cut the caramel into small squares or bars.
Wrap the caramels in squares of waxed paper to prevent them from sticking together. (Alternately, they can be dipped in chocolate.) Store wrapped Coffee Caramels in an airtight container at room temperature for up to two weeks.