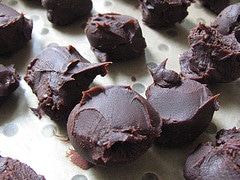 These espresso truffles from Katie Shepherd are decadent and delicious. Just four high-quality ingredients makes this an easy-to-prepare desert or slightly sinful snack. This recipe features our Organic Cafe Altura Freeze Dried Instant Coffee.
Cafe Altura Freeze Dried Instant Coffee is an exclusively sourced blend of organically grown 100% Arabica Coffees selected from three continents. Then we freeze dry it by an exclusive Certified Organic process to maintain the taste and aroma of real coffee. All coffee is grown sustainably by small farm indigenous growers who form the basis for Fair Trade exchange.
We recommending sourcing organic ingredients for this recipe, to complement our Organic Freeze Dried Instant Coffee
Espresso Truffles
Ingredients
200g good-quality dark chocolate, chopped
1/3 cup heavy cream
2 tsp Cafe Altura Instant Coffee
1/4 cup cocoa powder
Step 1
Combine chocolate, coffee and cream in a heatproof, microwave-safe bowl. Microwave, uncovered, on medium (50%) for 2 to 3 minutes, stirring every minute with a metal spoon, or until melted and smooth. Cover. Refrigerate for 3 to 4 hours or until firm.
Step 2
Line a tray with baking paper. Using 2 teaspoons of chocolate mixture at a time, roll into balls.
Step 3
Sift cocoa into a shallow dish. Roll balls in cocoa to coat. Place on prepared tray. Refrigerate until firm.
(image credit: Ann Larie Valentine / CC2.0)