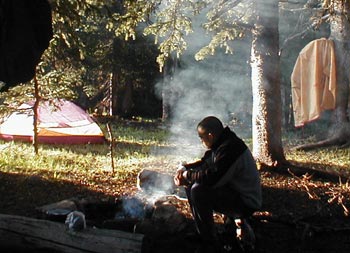 The great outdoors beckons. Whether you are planning an extended wilderness backpacking excursion or you plan to do a bit of car camping, don't leave home without coffee! Whether it's the ease and convenience of instant coffee, or the full flavor and rich aroma of ground beans, remember that coffee is a daily luxury that goes well with nature, the outdoors, and fresh air.
There is often nothing more delightful than enjoying a hot and delicious cup of coffee with the sunrise, as you hear the songs of the first birds, with the gentle breeze of dawn at your back.
Instant Coffee for Ease and Convenience
Instant coffee is the easiest and quickest way to enjoy coffee while camping. It travels well (it is lightweight, not messy, and does not have any waste associated with it). All you need to do is fire up your stove, heat up some water, and add a few teaspoons of instant coffee into your mug, and enjoy the taste of luxury.
Percolated Coffee – for Glampers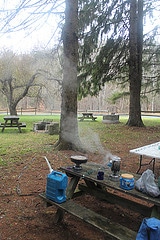 Glamping combines camping and glamor for a luxurious and comfortable holiday experience out of doors. Glampers like to do things right, and anyone who enjoys a bit of luxury can appreciate the joy of a steaming hot mug of freshly-brewed coffee while on a camping trip.
Luckily, there are a whole range of lightweight, resilient coffee percolators that can be brought on a camping or backpacking trip. Some do not even require that you bring paper filters. If you enjoy freshly ground beans, you can even pack a hand grinder… who says we need electricity to make the very best cup of coffee?
Cowboy Coffee: an Authentic Camping Experience
Long before the convenience of having coffee machines and portable percolators, coffee was enjoyed cowboy-style. Many people think that cowboy coffee is the best kind of coffee that exists, most likely because of the pleasure that comes from making and enjoying it while in the wilderness.
How to make the best cowboy coffee
First, you need to boil 4 cups of water over a fire or on your camping stove. Then, you add approximately ¾ of a cup of coffee to the water and bring it back to a boil. As soon as it starts boiling, you will want to remove it from the heat source, put a lid on it, and let it sit for about 5 minutes. During this time, the coffee grounds will all settle to the bottom of the pan, and the coffee 'brews'. During this process of brewing, if you can keep the pan (or coffeepot, if you have one) insulated, your coffee will remain piping hot, and the flavor will be optimal. You can dig a hole in sand or gravel to insulate, or you can just wrap your sweater or sleeping bag around the coffeepot.
Then, serve and enjoy. Make sure you stop serving when you notice a few coffee grounds coming into the cup. That's all there is to it!
You might be surprised at the greater amount of coffee grounds you need to use when making cowboy coffee as opposed to using your automatic coffee machine at home. If you don't use enough, the taste isn't nearly as good. Every method of brewing coffee has its own flavor, and the same is true for cowboy coffee.
Wherever you are headed: the desert, the mountains, or the seaside; and whatever your style of camping, you will find that there is a way that you can brew up a perfect cup of joe. Don't forget your beans, in instant, ground, or bean form so that you can discover the delights of enjoying coffee on your camping trip.
(image credit: Michael Allen Smith / CC 2.0)