Make Coffee While Camping (and Glamping)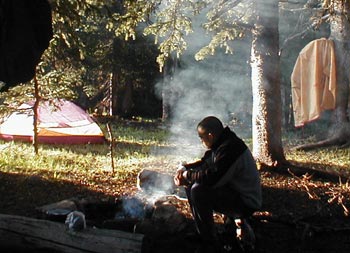 The great outdoors beckons. Whether you are planning an extended wilderness backpacking excursion or you plan to do a bit of car camping, don't leave home without coffee! Whether it's the ease and convenience of
instant coffee
, or the full flavor and rich aroma of ground beans, remember that coffee is a daily luxury that goes well with nature, the outdoors, and fresh air.
There is often nothing more delightful than enjoying a hot and delicious cup of coffee with the sunrise, as you hear the songs of the first birds, with the gentle breeze of dawn at your back.
Convenient Camping with Instant Coffee
Instant coffee
is the easiest and quickest way to enjoy coffee while camping. It travels well (it is lightweight, not messy, and does not have any waste associated with it). All you need to do is fire up your stove, heat up some water, and add a few teaspoons of instant coffee into your mug, and enjoy the taste of luxury.
Percolated Coffee for Campers (and Glampers)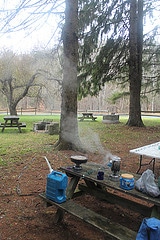 Glamping is camping with more of the creature comforts of home. There is no need to be without a great cup of coffee in the morning, for example, especially after sleeping in the fresh countryside air.
Glamping combines camping and glamor for a luxurious and comfortable holiday experience out of doors. Glampers like to do things right, and anyone who enjoys a bit of luxury can appreciate the joy of a steaming hot mug of freshly-brewed coffee while on a camping trip.
Luckily, there are a whole range of lightweight, resilient coffee percolators that can be brought on a camping or backpacking trip. Some do not even require that you bring paper filters. If you enjoy freshly ground beans, you can even pack a hand grinder... who says we need electricity to make the very best cup of coffee?
Hand-grinding Your Coffee
There are many options for hand grinders on the market. You'll want one that is durable, compact, and easy to clean for your glamping holiday. Some hand grinders are an awkward old-fashioned shape or made of a more breakable material. Stick to a stainless steel or hard plastic one, with a cylindrical shape.
The
Porlex Mini Stainless Steel Coffee Grinder
is a great travel choice. The
Handground Precision Coffee Grinder with Manual Ceramic Burr Mill
is very consistent in its grind and has 15 settings. It also comes with a one-year warranty, which is useful to have when you'll be putting your grinder to the test while camping in nature.
Pour-over coffee is all the latest rage in coffee shops across the US. The reason is that you can truly control each part of the brewing process with the pour-over method.
First, you need a great grinder. We've covered that. Next, you'll need a way to pour the water slowly onto the grounds so that it then drips into your cup of choice.
Here are a few choices for Pour-Over Brewers. The
Clever Coffee Dripper
is a great price at around $20 and great for novices with the pour-over method. It makes about 2 cups of coffee and is very portable BPA-free plastic. It also has a seeping lid so that no matter how you pour the water, the brewing is controlled.
The
Kalita Wave Series Wave Dripper
, a Japanese import, has a flat-bottomed shape rather than conical. It produces a good cup with one big difference to other brewers: you pour the water in and let it seep through on its own. Some may like the ease of this method, while others may like to control the pour more themselves.
An innovative design and best for one person,
Cafflano Klassic All-in-One Portable Pour-Over Coffee Maker
has everything in one cup, as the name suggests. While it's a little more pricey than other brewers, you don't need any accessories. It is self-contained, like a Swiss knife but for brewing coffee!
Once you have your brewer, filter, and recommended gooseneck kettle, here are the steps to get started on making your pour-over coffee.
1. Measure
For optimal results – this is glamping, remember, not camping - get your measurements of coffee and water accurate for the brewer you are using.
2. Boil and wait
You'll need boiling water, then wait about 30 seconds. The temperature should be about 200 degrees Fahrenheit.
3. Rinse your paper filter.
Give the filter a quick rinse before you start the brewing process, it will take away the paper taste from the coffee.
4. Wetting or "Blooming"
After the beans are ground, there is a build-up of carbon dioxide in the grounds. Pour a little water over the grounds to "bloom" or expand them and release the gas. Add enough water to cover all the grounds. Wait about 30 seconds and you'll see the grounds expand.
The next steps depend on the kind of brewer you've chosen. Check with your brewer manufacturer for the best guidelines for your brewer.
Camping with a French Press
The French press is an easy method to use in the great outdoors. Simply take your ground coffee, put it into the press, add boiling water, and voilà! A cup of coffee suited to the strength you prefer.

You can buy all sizes of French press, but it may be best to buy a small one to refill if you're tight on space.
Stovetop Espresso While Camping
Made popular in the kitchens of Italy, the
Moka Express
is a good camping coffee option for those who want a smaller serving size. It works like a percolator, but is a more compact size and makes a stronger espresso-like coffee than a regular perculator would.
Add water to the bottom compartment, then the grounds in the middle, and place on a heat source. Be careful if using a stovetop espresso with an open fire as there is a plastic handle that is not meant for open flames.
These are a few of the best ways to get a quality cup of joe while glamping. Make your choice depending on the amount of coffee you'll need each morning, the ease of use, and your taste preferences. You won't have to go without your good quality fix, even away from home.
Cowboy Coffee for an Authentic Camping Experience
Long before the convenience of having coffee machines and portable percolators, coffee was enjoyed cowboy-style. Many people think that cowboy coffee is the best kind of coffee that exists, most likely because of the pleasure that comes from making and enjoying it while in the wilderness.
How To Make the Best Cowboy Coffee
First, you need to boil 4 cups of water over a fire or on your camping stove. Then, you add approximately ¾ of a cup of coffee to the water and bring it back to a boil. As soon as it starts boiling, you will want to remove it from the heat source, put a lid on it, and let it sit for about 5 minutes.

During this time, the coffee grounds will all settle to the bottom of the pan, and the coffee 'brews'. During this process of brewing, if you can keep the pan (or coffeepot, if you have one) insulated, your coffee will remain piping hot, and the flavor will be optimal. You can dig a hole in sand or gravel to insulate, or you can just wrap your sweater or sleeping bag around the coffeepot. Then, serve and enjoy. Make sure you stop serving when you notice a few coffee grounds coming into the cup. That's all there is to it!

You might be surprised at the greater amount of coffee grounds you need to use when making cowboy coffee as opposed to using your automatic coffee machine at home. If you don't use enough, the taste isn't nearly as good. Every method of brewing coffee has its own flavor, and the same is true for cowboy coffee.

Wherever you are headed: the desert, the mountains, or the seaside; and whatever your style of camping, you will find that there is a way that you can brew up a perfect cup of joe. Don't forget your beans, in instant, ground, or bean form so that you can discover the delights of enjoying coffee on your camping trip.