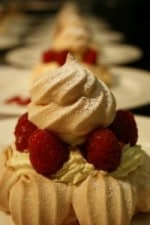 Ready to kick your dinner party up a notch? This coffee cream recipe from Katie Shepherd uses Cafe Altura Freeze Dried Instant Coffee. Order it today and we'll ship it right out to you!
Coffee cream is an elegant addition to an after-dinner cup of coffee, topping on any number of desserts or put out with a bowl of fresh organic strawberries.
Cafe Altura Freeze Dried Instant Coffee is an exclusively sourced blend of organically grown 100% Arabica Coffees selected from three continents. Then we freeze dry it by an exclusive Certified Organic process to maintain the taste and aroma of real coffee. All coffee is grown sustainably by small farm indigenous growers who form the basis for Fair Trade exchange.
We recommending sourcing organic ingredients for this recipe, to complement our Organic Freeze Dried Instant Coffee.
Coffee Cream
Serves 6
Ingredients
1 pound whole milk ricotta cheese
1/3 cup powdered sugar
1 tablespoon Cafe Altura instant coffee granules
1/2 cup chilled whipping cream
1 tablespoons and 1 tsp brandy
Preparation
Blend ricotta, sugar and coffee granules in processor. Add cream and brandy and process until smooth and slightly thickened. Pour into bowl. Cover with plastic and refrigerate until well chilled.
(photo credit: jonfletch)